---
Adventurers,
welcome to the magical world of Albion Online.
In this guide we have collected various useful links, guides and tips to make your Albion Online launch-week more enjoyable.
This blog post is directed both at new and experienced players alike and will develop over time as more resources are added by the community.
If you think we are missed any useful resource, please let us know on the forums or on Discord and we will gladly add your resource to the list!
If you would like to bookmark this list, please use the link below, because I will update the page below, but not this post:
https://albioninformer.com/resources/
---
Official Sources & Websites
We begin with a list of official websites and social media accounts where most of the official announcements and news will be listed and re-posted. Some more in-depth content such as testserver patch notes or a dev-tracker show up on various other places and will be listed seperately.
Other Official Sources
The famous killboard, where you can look up recent kills, battles, gvgs and other good pvp stats. The character builder & guides websites are in early production, but have a few good ones. You can even upvote your favorite ones.
In addition to that we recommend the testserver forum for testserver patchnote threads and the official patchnote websites visible in the launcher and the website.
If you are still looking for a guild, make sure to keep an eye on the guild recruitment forum section of the official forums.
If you have a beginner question, there is a beginner question's forum for you. Maybe your question was already answered?
---
Unofficial Fansites, Guides and Useful Links
---
Is my Albion Online?
Lets start with is.my-albion.online, it is a super quickly coded tiny website that checks if the albion servers are online, similar to our launcher. But some of you might not have your launcher on other devices.
---
Beginner Guides by Scythian
If you are looking for beginner guides for yourself or to link to your friends, we recomment the guides by Scythian on the official guides section. He wrote guides for the tutorial starting quest, the follow up quest and how to get your free T2 starting mount, how to go about unlocking all T3 weapons, armor & crafting and how to tackle the first expeditions on T3.
---
Ver's Spreadsheet

Ver collected a lot of useful links in his awesome spreadsheet. I might as well admit that I stole some of the links posted here from him in the first place ;).  But a big shoutout to Ver!
On his spreadsheet you can find among many other links..
---
Elsa's Item Skills & Stats Spreadsheet
Elsa, one of the Super Moderators of the forum made a very handy Item Skills & Stats Spreadsheet where you can find an overview and detailed stats about all the skills of the game, presented in a nice and easily readable format. It also has tables about stats of armors, mounts, accessories and other neat stuff for you stat fanatics out there.
ChronoChimera Cheat Sheet
ChronoChimera's cheat sheet updated last for Hector has a lot of useful ingame information. Timer reset times, respawn timers of various chests, loot tables, drop chances for mount babys, puppys & fawns, fame modifiers for zones, premium bonus details, group fame modifiers, a list of chat & emote commands, the item power softcap table, expedition mob details, the black market forumla, island upgrade costs and other info.
Once you got into the game a bit and are looking for more details, its highly recommendet!
Inofficial Dev-post Tracker
I have to say I hate Albion Offline with a passion, because the only thing they to is automate and repost official content without anything interesting added to that for what I assume is ad revenue. But they have to my knowledge the only working dev-tracker for Albion Online currently.
http://www.albionoffline.com/tracker/
---
Albion  Item Database Websites
AlbionOnline2D
AlbionOnline2D (AO2D) is a database tools website that is under development, but already has a lot of promissing features. In addition to a working item and spells database it features an albion map for your browser that reminds me of eve's dotlan. It's not perfect yet, but worth bookmarking for sure.
AlbionHead
AlbionHead.com is a items, spells and patchnotes website that has a sleek look and a promissing item and spells database.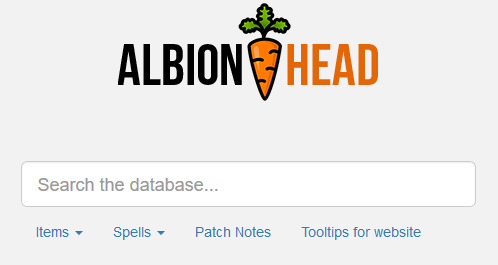 ---
Other Links & Resources
Albion Trade Federation – Out-of-Game Trade Discord
The Albion Trade Federation Discord is an out-of-game discord trade chat to post WTB / WTS / WTT offers and chat with fellow merchants and traders. Disclaimer: This is my side-project.
Guild Registry
The player HaH Reported periodically updates his Guild Registry thread, which is worth checking out as well, if you want an overview about guilds or are looking for a new one.
Startup Costs Spreadsheet
A very useful spreadsheet is the 'Startup Costs' spreadsheet, that has some simulations on tax income for guilds, but also building costs (silver & resources detailed in very helpful tables. Check it out for sure.
((if you know who made this, please let me know so i can credit him))

Albion Informer
Albion Informer is a weekly podcast and news blog by Shozen and Bogul featuring official and community news, discussion about game updates, spotlights of community events and interviews with famous and infamous community members.
---
— END —
If you have other links for me, please PM me and i'll add them!